Backstreet's back, on a global scale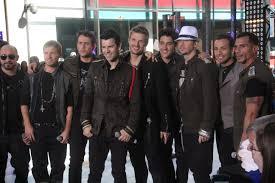 Related Artists: Backstreet Boys
That's right folks, Backstreet's back alright. Six years, two newborns and one hit Las Vegas residency later, the Backstreet Boys have announced their next tour, with their 10th studio album "DNA" due to hit January 25 next year.

The first complete program since "In a World Like This" back in 2013, the boy band has been busy rebuilding itself.

Their 18th song on the Billboard Hot 100 Chart, Don't Go Breaking My Heart, peaked at number 63 in July and 2015 saw a release of their documentary, "Show 'Em What You're Made Of".

Now their new album features catchy tunes like Chances, co-written by Shawn Mendes and Ryan Tedder. A sweet love story with a heavy dance choreography, the single has Backstreet Boys written all over it.

The "two-in-a-million" chance is an important lyric of the song - a two-in-a-million chance that you will meet the love of your life in the most unsettling of situations but in a simple everyday setting. You could miss your train for instance and all of a sudden find yourself meeting that one and only.

As one of the boys, AJ McLean, says: "You don't necessarily have to be set up on a date or go on a dating app to meet that special someone."

With the increase of the digital age, we all tend to forget that feeling of being caught unawares through an organic encounter at a particularly precarious moment in our lives. And then get whisked away in that moment:

Is it love? Is it fate?
Who am I? Who's to say?
Don't know exactly what it means (Ooh, oh, yeah)
Is it love? Is it fate?
Where it leads, who can say?
Maybe you and I were meant to be

The song was one of the final tracks recorded for the band's DNA album, which was put together over the last three years with recordings in Vegas, Los Angeles and Nashville.

Stay tuned on lyricfinder for the gushing lyrics of their new tracks.