Rock lyrics: A how to guide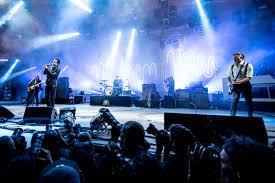 Related Artists: Arctic Monkeys , The Beatles , Pink Floyd
What makes good rock lyrics? Rock legends like The Beatles and Pink Floyd have really made a mark in music history and are classics who will be around for many years to come. So how did they do it? Why not ask one of the best lyricists of today, Arctic Monkeys' songwriter, Alex Turner?

From writing hits like The View from the Afternoon and I Bet You Look Good on the Dancefloor, Turner changed the face of Arctic Monkeys and he is here to stay.

So what advice does this creative genius have for us? Let's take a look.

Pick your time to write
Inspiration comes to people at different times. For Turner, lyrics usually present themselves in the morning, in the first 15 minutes of the day or in the middle of the night. It's easy to imagine young Turner being inspired sometime during the night and immediately getting up to write it all down.

Choose a location that works
Location is an important part of the creative process. Pick somewhere that works for you. Turner prefers to write from his house in LA where no one can hear him (or at least, he thinks no one can hear him). He doesn't write lyrics on the road or near the water.

Lyrics comes after Music
Although Turner's songs involve a large chunk of lyrics, the music is actually what comes first for him. Lyrics follow the sound of the music. Tuner believes a good melody will get the right words to commit.

Enjoy the process
If you're going to write lyrics, you need to want to let go. The inspiration for the line from Four Out of Five relating to a "lunar surface on a Saturday night", came from a nickname made by Turner's friends of his house in LA. By starting with this idea, Turner extended the lyrics to involve an outer space theme. The song is actually about a restaurant owner bragging about his reviews - but what we have is a moon-based taqueria. Get carried away, at least a little, Turner says.

So there you have it, tips for writing rock lyrics that will change the face of music history.